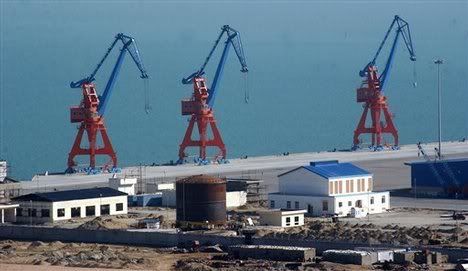 Here at www.newcondosonline.com, we have over 1,200 new and pre-construction developments throughout the nation up and listed on our site. We also have an international section featuring thousands of condo projects worldwide. I am hearing more and more about the United Arab Emirate of Dubai and the massive amounts of development that are going on in this UAE city. From what I have learned, Dubai has more operational construction cranes right now than any other country or region in the world. This isn't just straight residential condo and commercial buildings either. There are many unique and "outside the box" projects going on in this region, which is becoming a true-life oasis in the hot, desolate, and arid climate of the Persian Gulf. Dubai is home the world's first indoor ski resort, as well as a community of resort villas that are in the shape of the World's continents from a bird's eye view. Even Donald Trump has a large project going up here right now. So why are we hearing more and more about Dubai, and what will it take for the western world to become fully versed in this unique and rapidly growing city?
To begin with, there was a recent reversal of a law in 2002 that allows non-nationals of the UAE to own property (not land) in Dubai. The Dubai government does not want to depend on its oil reserves which are largely believed to deplete by 2010 and, turning many of the region's efforts towards expanding commercial and corporate activities. This includes construction of massive and world renowned shopping malls, theme parks, resorts, stadiums and various other tourist attractions, i.e. an indoor skiing resort. To conveniently keep costs down, construction firms and developers in Dubai can employ many low wage workers who are willing to put in up to 12 hours a day, six or seven days a week.
Dubai's population is comprised mainly of expatriates, with local nationals making up the minority. The UAE
government, however, does not allow permanent residence to expatriates. Keep checking back on our international listings at www.newcondosonline.com for more and more condo developments and investment opportunities in Dubai.