San Francisco, California has recently been voted the nation's most walk able city by Walk Score, a web site that assigns grades to addresses based on the proximity of amenities surrounding them. With rising costs of gas, New Condos in San Francisco could mean a lower cost of living for those that are able to take advantage of the convenience of the city's public transportation accessibility. As seen in the picture below, most Californians in surrounding areas are paying well in excess of $1000 dollars a year on transportations costs. Residents of San Francisco are also claiming a better quality of life by having the ability to visit local markets, eateries and coffee shops by taking a stroll through the neighborhood. This luxury also attributes to the populations physical fitness placing San Francisco in the top ten fittest cities in the United States in 2007. If you would like to cut back on the portion of your monthly paycheck handed over to attendants at the gas station and live somewhere that many amenities are a short walk away you may consider buying a new condo in San Francisco.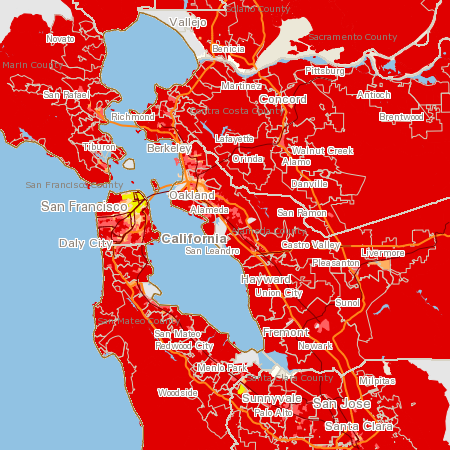 Monthly Household Transportation Expenditures (2008 gas prices).

by Block Group Model Data

grey:

Data not available

yellow:

0 to 730 UDS($)

flesh:

730 to 800 UDS($)

peach:

800 to 860 UDS($)

pink:

860 to 930 UDS($)

red:

Greater than or Equal to 930 UDS($)

Monthly Household Transportation Expenditures (2008 gas prices). Fuel efficiency is based on 20.3 mpg.